Quatela Center for Plastic Surgery
973 East Avenue
Rochester, NY 14607
Phone: (585) 244-1000
Fax: (585) 271-4786
Monday–Friday: 8:30 a.m.–5 p.m.

Quatela Center for Plastic Surgery
973 East Avenue
Rochester, NY 14607
Phone: (585) 244-1000
Fax: (585) 271-4786
Monday–Friday: 8:30 a.m.–5 p.m.

Dr. Heather Lee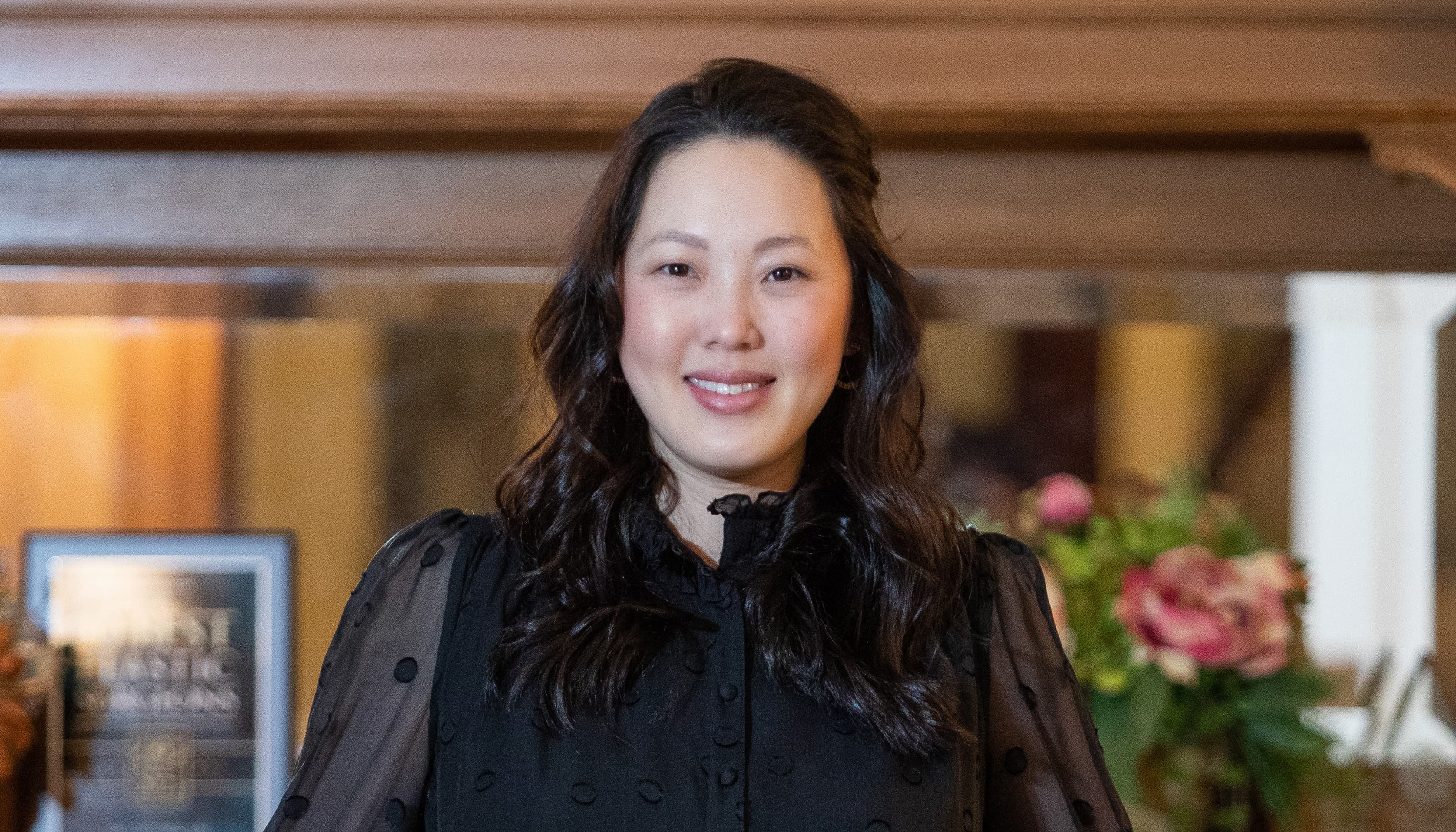 Having trained under Dr. Vito Quatela in 2016 for her fellowship in facial plastic and reconstructive surgery, Dr. Lee was thrilled to officially join the surgeons at the Lindsay House in 2017. She is certified by both the American Board of Facial Plastic and Reconstructive Surgery (ABFPRS) and the American Board of Otolaryngology-Head and Neck Surgery (ABOHNS). At the Quatela Center, Dr. Lee enjoys furthering relationships with patients who have entrusted her with their care, while welcoming new patients into her practice.
Education and Training
Born in Lexington, Kentucky, Dr. Lee graduated from the University of Pennsylvania in Philadelphia with a bachelor's degree in biomedical sciences and biochemistry, and a minor in Asian-American studies. She went on to complete a master's degree in biotechnology, also from UPenn, and returned to the University of Louisville School of Medicine in Kentucky where she graduated cum laude. Dr. Lee received several awards of recognition, including Outstanding Performance and Excellence in Otolaryngology, first as a medical student and again as a resident, and a resident research award from the University of Louisville's James Graham Brown Cancer Center.
After a five-year residency in otolaryngology — head and neck surgery in Louisville, Dr. Lee arrived at the Quatela Center to complete her fellowship and launch her career, developing expertise in facial plastic surgery with a focus on both aesthetic and functional procedures, including:
Facelift
Cosmetic and functional rhinoplasty
Forehead lift
Injectables
Mohs skin cancer surgery repair
Trauma and reconstructive surgery
Cosmetic and functional blepharoplasty
Her dedication to providing compassionate patient care rests upon our shared philosophy: plastic surgery creates uplifting experiences that change people's lives—from young children to older adults.
Dr. Lee is a member of the American Academy of Facial Plastic and Reconstructive Surgery and the American Academy of Otolaryngology.
Request Your Consultation
"Amazing facility...amazing staff and Dr. Lee has the best bedside manner...she is beautiful on the inside and out and is so talented in her profession…"
"Rarely do you find a surgeon that has such incredible skill and amazing bedside manner. From the moment you meet Dr. Lee you will feel at ease with her lovely personality. She instills confidence and puts all your concerns at ease. The surgery itself was better than I could ever imagine. All the staff were comforting and made sure that my needs were looked after. The results are amazing! Truly Dr. Lee has a gift."
"I went to Quatela about my horrible neck and wrinkles. I got to the point where I hated looking in the mirror and was hoping to find something that would help me look and feel better. I met with Dr Lee and decided to get a facelift and temporal lift. Everyone that works at Quatela is so supportive and kind and I've never felt more comfortable in my life about choosing this practice for surgery especially with Dr. Lee. She always took the time to answer any questions I had before and definitely at every visit after my surgery. Everything went beautifully and I feel about 15 years younger. The surgery was worth everything to me, I haven't felt like this in a very long time! If I ever decide to do anything else I would definitely go back to Dr Lee again. Thanks to everyone at Quatela for such a wonderful experience, I'm truly so grateful for all your kindness and caring. Special thanks to Lisa Daeffler, and all the nurses that took care of so well every time I was there. You're all so wonderful and I thank you from the bottom of my heart!"
"Dr. Lee helped me to feel whole again after a traumatic experience with a previous surgery to have a tumor removed from my face. Dr. Lee was always very attentive. She answered every question and reassured me every step of the way. I truly could not have navigated this process without her compassionate spirit. I will be forever grateful to Dr. Lee and the team at Quatela. I would highly recommend them!"
"I have been going to Dr. Lee for about three years now and it has been life changing. Literally. I trust her completely with my face. We have done Botox and fillers and it has made me have so much more confidence, just made me more of a happy person in general(feeling great about yourself can do that lol) She is a true artist.. if you haven't made an appointment do so.. you won't regret it! Thank you Dr. Lee"
"It is often said a good surgeon operates with his/her hand, not with his/her heart. This adage characterizes surgeons who stereotypically may have great surgical skill but lack in bedside manner. Luckily, working with Dr. Lee is like winning the daily double. Dr. Lee demonstrates both excellent surgical skills matched with a fabulous upbeat caring personality. My experience with Dr. Lee and her team far exceeded my expectations. At every appointment, I was welcomed warmly, processed timely and always treated with care and respect. It is clear that professionalism is highly valued by Dr. Lee as this tone is displayed from the moment you enter the office and has continued through my surgical follow-up. Thank you Dr. Lee for a positive experience and an excellent outcome. Something you want when it's your face!"
"Dr. Lee did an upper eyelid blepharoplasty and I couldn't be happier. I healed quickly with very little bruising or swelling and my eyes look great. She is knowledgeable and has a great personality - I would recommend her very highly."
"Dr. Heather Lee performed my rhytidectomy (facelift) and she did an AMAZING job. First, let me say that we met a year ago to discuss my concerns (saggy neck) and I thought it would just be a neck lift, but she educated me on how that would look if she only lifted my neck - my face and jawline would look horrible. A year later I got it done and I have no regrets. I am only 2 weeks out and not only do I look younger with no saggy neck, but I also have a jawline and I look thinner too (score). Besides all of that, she has the best bedside manner ever and you can tell she is genuine and she really does care. I love her and I will go back to her for any future facial surgeries."
Research and Volunteerism
Dr. Lee is passionate about giving back to communities at a local, national, and global level. Throughout her medical training she provided care at women and children's clinics and offered cancer screenings of the skin, head, and neck to her local community. She began her work in global health during residency when she traveled to Africa to operate on and care for Kenyans with large compressive goiters. Through Dr. Vito Quatela's HUGS Foundation, Dr. Lee has continued her international work by reconstructing the ears of patients with microtia, a congenital defect of the ear, in Guatemala, Ecuador, and Vietnam.
Dr. Lee has collaborated on various biomedical research projects, including molecular genetics, during her time researching at the Rockefeller University in New York. During her residency, she was selected twice to present her research projects at the Triological Society Combined Sections Meeting.
"Slice of Life" Outside the Practice
Dr. Lee enjoys photography, modern art, yoga, raising bonsai trees, and gardening. She also loves the culinary world – eating, cooking, and baking. Her pie was a contest finalist in the Kentucky State Fair.
Schedule Your Consultation
To meet personally with Dr. Lee and get to know this talented, compassionate plastic surgeon, request your consultation  using our online form, or call out office at  (585) 244-1000 to schedule an appointment.
Review Dr. Lee's full curriculum vitae.