BOTOX® Cosmetic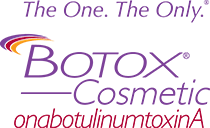 At our Rochester, NY office, women and men benefit from BOTOX injections. People concerned about wrinkles that can make them look older than they are — such as crow's feet, "worry lines," and forehead wrinkles — can minimize those early signs of aging with BOTOX. The no‐downtime procedure produces results within 7 to 14 days in most cases, creating a more youthful appearance that still looks natural.
How It Works
The dynamic wrinkles targeted by BOTOX injections are caused by a lifetime of smiling, frowning, squinting, and a range of other facial expressions that occur daily. Facial muscles contract each time you change expression, and over time the skin develops lines and wrinkles. BOTOX temporarily weakens those muscles to prevent the lines from being reinforced.
Many of these muscles are around the eyes and in the forehead. Our injectors target the muscles with precision to ensure the BOTOX injections produce results that look natural. BOTOX is ideal for the glabellar area — the space between the eyebrows — where 2 vertical lines can make it appear that you're worried or angry all the time. Crow's feet at the corners of the eyes and horizontal wrinkles along the forehead can also be softened using BOTOX.
---
Vito C. Quatela, M.D., FACS
Specializes in Facial Procedures
Compassionate and dedicated to personalized patient care, Dr. Quatela is a board-certified facial plastic surgeon recognized worldwide for his expertise in facial rejuvenation. He established the Quatela Center for Plastic Surgery in Rochester, New York to provide excellence in aesthetic surgery.
Read On
---
Heather Lee, M.D.
Specializes in Facial Procedures
A board-certified facial plastic surgeon and a board-certified otolaryngologist–head and neck surgeon, Dr. Lee is dedicated to improving the lives of adults and children by using her surgical talents. She specializes in procedures of the face and head including facelift, functional and cosmetic nose surgery, blepharoplasty, and injectable treatments.
Read On
---
William j. Koenig, M.D.
Specializes in Breast & Body Procedures
A board-certified plastic surgeon, Dr. Koenig's experience and gentle bedside manner help put patients at ease and build an uncommon level of trust. He meticulously customizes each procedure, and sculpts beautiful results that consistently exceed his patients' expectations.
Read On
---
Ashley N. Amalfi, M.D.
Specializes in Breast & Body Procedures
Recognizing the unique goals and desires of each of her patients, Dr. Amalfi uses her attention to detail and experience to create personalized surgical outcomes for her patients. A board-certified plastic surgeon, she specializes in cosmetic and reconstructive breast and body procedures.
Read On
---
BOTOX vs. Dermal Fillers
BOTOX is an injectable neuromodulator that works by preventing specific muscles from contracting. We use it conservatively, so patients avoid looking unnatural or "frozen." Dermal fillers, such as JUVÉDERM® and Restylane®, are injectable gels that restore volume to smooth wrinkles and create a "lifted" appearance. Most fillers contain hyaluronic acid, a sugar that occurs naturally in the body and binds with water to hydrate the skin.
A Reputation Built on Results
You deserve the highest caliber of service, care, and results, and at the Quatela Center for Plastic Surgery, we're committed to providing all that and more. But don't take our word for it—see for yourself what our actual patients have to say about their experiences with us.
Read More Patient Reviews
Results
It takes about 5 to 7 days to first notice results after getting BOTOX injections, although patient responses vary. The changes in your appearance gradually continue, and the peak outcome typically occurs about 2 weeks after the treatment. BOTOX results are temporary, with the effects lasting about 4 months. We encourage patients to come in for periodic treatments to maintain the results for a longer period of time.
You can return to work or normal social activities immediately following the treatment. We recommend your keep your head elevated for at least 4 hours after your treatment and avoid rubbing or touching the treatment area. This allows the product to disperse properly for more consistent results. Rarely, slight bruising or swelling may appear at the injection site. Using a cold compress can reduce this effect.
Quatela Center
for Plastic Surgery
The Quatela Center's reputation as one of New York's finest cosmetic plastic surgery practices attracts patients to Rochester from throughout the state. Choose one of the locations below for driving directions to our practice.
Back to Top