Quatela Center for Plastic Surgery
973 East Avenue
Rochester, NY 14607
Phone: (585) 244-1000
Fax: (585) 271-4786
Monday–Friday: 8:30 a.m.–5 p.m.

Quatela Center for Plastic Surgery
973 East Avenue
Rochester, NY 14607
Phone: (585) 244-1000
Fax: (585) 271-4786
Monday–Friday: 8:30 a.m.–5 p.m.

Thigh Lift
The tone and laxity of the skin on the thighs can be affected by many factors, including age, genetics, and weight changes. Men and women who have lost significant amounts of weight, either from weight loss surgeries or by natural means, are often left with loose skin hanging around the thighs. Our board-certified plastic surgeons perform thigh lift surgery in Rochester to give patients from Buffalo, Syracuse, and throughout New York slimmer, more youthful-looking thighs.
Thigh Lift
Before & After Photos
Case: 1 of 2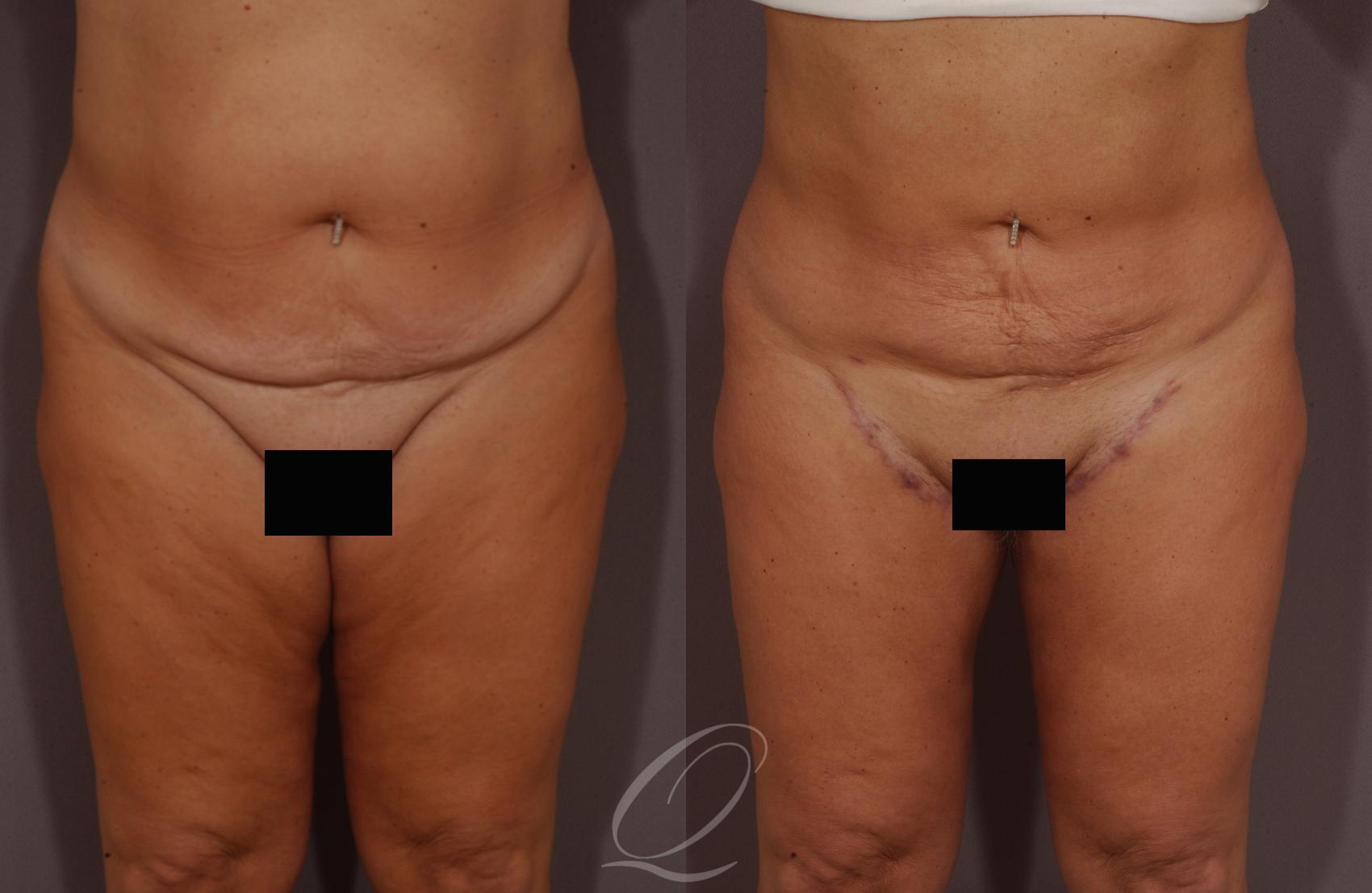 Before & After
Case: 1 of 1
Thigh Lift Case #1
Medial thigh lift and liposuction of abdomen
Keep in mind that each patient is unique and your results may vary.
Benefits of Undergoing Thigh Lift Surgery
For the right patients, thigh lift surgery has much to offer. The thigh lift procedure can be used to tone and trim away excess fat and skin from thighs. Patients may feel more fit and confident and appear more youthful. If they have recently lost a significant amount of weight, thigh lift patients can use this surgery to regain more contoured legs. Some patients gain the confidence to wear skirts and shorts again after thigh lift surgery.
---
Ashley N. Amalfi, M.D.
Specializes in Breast & Body Procedures
Recognizing the unique goals and desires of each of her patients, Dr. Amalfi uses her attention to detail and experience to create personalized surgical outcomes for her patients. A board-certified plastic surgeon, she specializes in cosmetic breast and body procedures.
Read On
---
Thigh Lift Consultation
Before your thigh lift surgery can take place, our doctors will evaluate your eligibility for the procedure. Typically, this includes a conversation about your previous medical history, any current medical conditions you may have that might delay healing, previous surgeries, and current medications and supplements you are taking. Our surgeons will also assess the degree of skin laxity and the amount of fatty tissue around the thighs to help them customize the best approach to suit your individual needs.
As part of the consultation process, your doctors will discuss your expected surgical results. Some thigh lift patients decide to maximize their results by adding other body contouring surgeries, however your doctor will discuss your personal surgical options with you during your thigh lift consultation to see if this is possible.
The Ideal Candidates for Thigh Lift Surgery
To be considered a good candidate for thigh lift surgery, you should be in good overall health, not smoke, and have realistic expectations for your personal results. To be an ideal thigh lift patient, you should also be experiencing sagging, excess tissue around your thighs. If you have thicker thighs without lost elasticity from the skin, you may be a better candidate for Liposuction alone. Discuss your options with our doctors to get their professional opinions and to decide if you would be a good candidate for a thigh lift surgery. If you also have lax skin on your upper arms, it may be addressed with an Arm Lift.
The Thigh Lift Procedure
Thigh lift surgery is typically performed under general or sedation anesthesia. On average, our doctors will complete thigh lift surgeries between two and three hours, however this depends on each patient's situation. To begin, they will make an incision slightly below the bikini line, through which fat and skin can be removed. Liposuction may be used to remove moderate amounts of fatty tissue based on the patient's physicality. Once this is completed, the skin will be tightened and the incisions will be sutured closed. For many patients, drainage tubes will be used to help alleviate the build-up of excess fluids in the early hours and days of healing.
Thigh Lift Recovery
Following thigh lift surgery, patients may return home with drainage tubes in place. They will likely be removed at a follow-up visit with your doctor about two to three days after surgery. Swelling, bruising, and a feeling of tightness are common side effects of the thigh lift procedure, all of which will subside on their own and can be managed with prescribed pain medication. Patients will also be asked to wear a compression garment on each thigh during the healing process. Typically, thigh lift patients are able to get up and start moving around one week after surgery. It may take two weeks or more before patients can return to work and often up to six weeks before other activities can be resumed. Discuss your personal healing time frame with your doctor for clarification.
A Reputation Built on Results
Dr. Koenig was absolutely amazing! His staff made you feel comfortable every step of the way. The...
I feel it is extremely important to trust the professionals handling any facial treatments, and I have...
I had an Blepharoplasty (eye lid lift) in August by Dr. Montage. The whole staff is very nice and extremely...
I saw dr lee yesterday for the second time to get my lips done. She not only does an amazing job with...
Choosing the Right Surgeon for Thigh Lift Surgery
At the Quatela Center for Plastic Surgery, our doctors provide thigh lift patients with personalized and customized care to deliver the results they are hoping for. As highly trained plastic surgeons who specialize in body procedures, our doctors offer their patients experience and expertise in body contouring surgeries like the thigh lift procedure.
Thigh Lift FAQ
How long does thigh lift surgery last?
Most thigh lift surgeries take two to 3 hours for our doctors to perform.
When will I be able to go back to work after thigh lift surgery?
Most patients are advised to expect to be off from work for about two weeks before they are able to return. However, patients with physical jobs that require movement, athleticism, or long periods of standing may be asked to stay out of work for longer to ensure full and proper healing.
Where do our doctors perform thigh lift surgeries?
Our doctors perform many outpatient surgeries at the Lindsay House Surgery Center, a fully licensed multi-specialty ambulatory surgery center located at the Quatela Center in Rochester, New York.
Will there be a scar following thigh lift surgery?
Every surgery can leave behind a scar. With thigh lift surgery, the scars tend to be well hidden in the natural creases of the groin but some patients require a scar down the inside of the leg for best results. Scarring can take up to 12 months to fully heal, however our surgeons offer embrace® Advanced Scar Therapy to reduce the appearance and aid in the healing of scars from surgical procedures.
What is removed during thigh lift surgery?
In order to tone and trim the thigh area, our surgeons will remove excess loose skin and sometimes built up fat cells. Liposuction may be added to the procedure to help smooth away unwanted fat cells.
How much is a thigh lift?
The cost of a thigh lift varies, depending on your specific needs and goals. All prices quoted from the Quatela Center are all-inclusive and include pre and postoperative appointments, surgeon's fees, surgery center fees, and anesthesia costs. For more information, see our page on Plastic Surgery Costs.
Quatela Center
for Plastic Surgery
The Quatela Center's reputation as one of New York's finest cosmetic plastic surgery practices attracts patients to Rochester from throughout the state. Choose one of the locations below for driving directions to our practice.