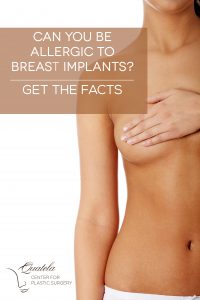 You may have seen the recent news about actress Stephanie March's breast augmentation journey which indicates that it is possible to be allergic to breast implants.  But is that true?  When it comes to putting an implant into your body, patients have many questions regarding safety, and the likelihood of an allergic reaction is one concern.
In our own practice, Dr. Koenig has had patients ask if indeed they can develop an allergy to their implant.  He assures his patients that this is extremely rare.  Breast implants are made of silicone, a bio-compatible material, meaning the material itself is not harmful to living tissue and poses no risk of injury or rejection by the immune system.
In March's case, it was most likely an infection or capsular contracture that caused the issues with her breast implants.  Infections may occur due to unsanitary procedures during surgery or for unknown reasons, affecting approximately 2% of breast augmentation patients nationally.  While the breast implant itself does not cause harm to the body, it is still a foreign object and recognized as such.  Capsular contracture is a non-immune reaction to a foreign body, such as implants.  Scar tissue develops around the implants which in turn can cause the breasts to harden, look or feel different, and sometimes cause discomfort.
While it's highly unlikely that someone is allergic to breast implants, there are some risks associated with the surgery.  That is why it's important to choose a board certified plastic surgeon that specializes in breast surgery.  At your consultation appointment, don't hesitate to ask your surgeon about the measures taken to reduce the risk of infection, and always make sure that your surgery is performed in an accredited facility where they are held to specific standards to ensure the safety of the patients.
One tool used by Dr. Koenig for breast augmentation surgery is the Keller funnel, which greatly reduces the incidence of infection.  In his study of breast augmentation procedures over the course of eight years, Dr. Koenig has only encountered an infection rate of 0.1% and a capsular contracture rate of 0.8% (compared to the national averages of 2% and 15%, respectively).
Among the information that you need to consider when deciding on breast augmentation surgery, it's safe to say that an allergy to breast implants is not something you need to worry about.
For more information about Dr. Koenig and breast augmentation, visit our website at Quatela.com or call 585.244.1000 to speak to a Patient Consultant.