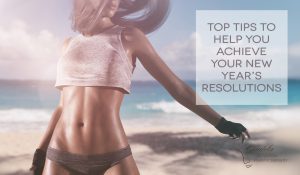 We've all seen it, the popular slogan during this time of year, "New Year, New You!"  But according to Statistic Brain, of the 41% of Americans who usually make New Year's resolutions, only 9% of them feel they have succeeded at their resolutions.  So this year, let's not focus on a whole new you, but instead on working toward the more attainable goal of finding the best version of yourself.
When you think of something that you want to change about yourself, what is the first thing that comes to mind?  Finally updating your haircut/style, toning muscle, eating more "clean," or having more energy?  The list is endless.  Instead of focusing on all of the ways you want to improve yourself, which is likely to become overwhelming and cause you to stop before you even start, pick out one or two small steps to focus on that will move you toward your overall goal.
Maybe you want to feel and look more rested.  You're sick of running from one commitment to the next, never getting enough sleep, and looking worn out.  There are many steps to take to achieve this, so first focus on one or two.  Look at your schedule and see what you could cut out.  Really dive into what eats up your time (for many of us, these are "unscheduled" activities such as time spent endlessly scrolling through social media or email, or binge watching more TV than we intended in one sitting).  Schedule a bedtime for yourself every night to achieve the recommended 7-9 hours of sleep.  Use a calendar to literally set a time to go to bed and treat it like any other appointment so that you're more likely to follow it.
As you work on conquering small changes, you can eventually add in larger items.  Look into learning about skin care products and procedures that are best suited for you to rejuvenate your tired skin.  Commit to budgeting for these items if you don't already to avoid throwing off your financial goals.  Make a plan for future ways to combat signs of aging, perhaps with non-surgical or surgical options.  Even if you can't do everything you want to now, it doesn't mean that you can't start taking steps toward larger changes later.  Resolutions, or commitments to change, don't have to start and end with the New Year.  If you are better able to start a new schedule toward change in the summer, then start then.  The key is starting, so have some sort of time marker and goal time frame so that you will start the process.
And if 2017 is the year that you finally want to do something about that sagging skin on your belly (that you can't get rid of with exercise, despite how hard you try) or repairing your under eye bags that make you look so tired, then by all means, move forward in scheduling a consultation to find out if you are a candidate for the cosmetic procedure you are considering.  Many patients need time to plan their finances and their schedules to accommodate for treatments.  If you start the process early enough, you can pick a date that works for you rather than having to work around the doctor's busy schedule.
Only you know what changes you want to see for yourself this year.  Instead of focusing on the big picture which can often seem unattainable, challenge yourself to take small steps forward.  Achieving the best version of ourselves is a lifelong goal, one that will look different for every person and at every age.  Create a plan that is unique to you, that meets you where you are, and that you feel good about.  If it's something you feel passionately about, you can make it happen.
The Quatela Center prides itself on offering a comprehensive campus in which patients can have non-surgical and/or surgical cosmetic treatments from head-to-toe.  Our "patients" are not just patients to us; they are our partners in beauty.  We would love the opportunity to help you develop a customized plan to achieve any cosmetic goals that you might have.
If you'd like more information on how the Quatela Center for Plastic Surgery or Q the Medical Spa can help you achieve your beauty and skin health goals this year, call 244.1000 to speak to a Patient Consultant or 244.1010 to speak to a Spa Coordinator.