You're ready to do something for yourself, but you aren't sure just what you need.  Non-surgical treatments such as Botox® and injectable fillers, along with skincare maintenance, appeal the most to you, but will they be enough to achieve the look you are hoping for?
We often find that when patients come to their Image Enhancement Session or consultation appointment, they are hoping to be able to look twenty years younger with injectables alone.  And while injectable fillers offer great non-surgical results, it's often these products combined with surgical measures that give the most dramatic results and highest satisfied patients.
"The term liquid facelift implies that we are lifting but in actuality fillers don't lift anything, but they augment volume in such a way that it creates the allusion of lifting. The reality is that you are only increasing things in the forward dimension, you can't increase things in the upward dimension, you would defy gravity. We can't defy gravity and so what we're doing is creating the allusion." – Dr. Vito Quatela
It's important to know that just because surgery is suggested as the best procedure for a patient's particular concerns, it does not mean that plastic surgeons are only trying to push patients to book a more expensive procedure.  Instead, it's all about managing patient expectations, which is one large piece of the cosmetic procedure puzzle.  Plastic surgeons are trained in what traits make the best candidates for surgical and non-surgical procedures and know exactly what each procedure can and cannot achieve.  After hearing a patient's concerns and long-term goals, it's the surgeon's job to suggest what procedure(s) will achieve the expected outcome.  Surgeons also want to ensure that each patient has a comprehensive understanding of all of the options that are available before making a choice to undergo any procedure.

Patient results with fillers alone. Radiesse® and Juvederm® package.

Patient results with facelift surgery alone.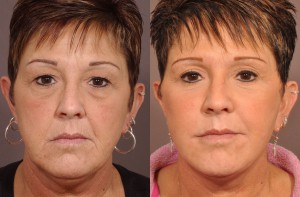 Patient with both fillers and facelift surgery (along with other complementary procedures).
Patient concerns
Outside of what procedure will work best, many patients have other concerns that are holding them back from surgery.  It's important to weigh all of your options and learn as much as you can in order to make an informed decision.  Below we'll discuss four common roadblocks to surgery:
Cost is often a determining factor for many patients; therefore they would prefer to start with non-surgical options as a way to "get their feet wet" without spending too much. This approach works for some, but over time, surgery can actually end up having a lower out-of-pocket cost because re-treatment of fillers is necessary every 6-24 months (depending on the product used) to maintain results.  If a patient wants to begin treatment but needs time to save or finance for the upfront cost of surgery, they can begin their treatment plan with fillers until they are ready for surgery.
Patients also want to get their feet wet by starting with fillers because they are worried that surgical results will look unnatural. Plastic surgery is a means to maintain youthfulness but in a way that is consistent with reality.  Too much filler or surgery at the hands of an inexperienced surgeon can both lead to unnaturalness.  This is why experience, a mutual understanding of the results desired, and the ability to look at before and after photos of past patients are key to choosing your surgeon.
"The key to looking natural is to do the right amount at the right time."-  Dr. Vito Quatela
Surgery does require a longer downtime with more restrictions. Since surgery is more invasive, the healing process takes longer which requires patients to plan to take time off of work and restrict certain activities.  Fillers have minimal downtime and very few restrictions.  While patients will certainly see improvement from injectable treatments (especially when done in combination with others), non-surgical treatments will never replace the results achieved from traditional surgical procedures.
Some patients are concerned with safety. Both surgical and non-surgical cosmetic procedures can be safe as long as they are performed by a board certified plastic surgeon.  Also, the complication rate for surgical procedures is extremely low due to the fact that our surgical procedures are completed at the Lindsay House Surgery Center, a private, AAAHC-accredited facility.  This surgical setting is ideal for cosmetic patients since safety is still paramount but is not done in a high traffic hospital with sick people; therefore the risk for infection is minimal.  Regardless of which option you choose, keep in mind that surgical and non-surgical cosmetic treatments are still medical procedures whose outcome is largely dependent on the doctor performing them and the facility in which they are done.
Both surgical and non-surgical options can offer patients refreshing results.  However, don't write off surgery without weighing all of your options and the long-term benefits.
To learn more about procedures at the Quatela Center, call 585.244.1000 to speak to a Patient Consultant.