When it comes to breast augmentation with implants, no two procedures are exactly alike. From size to profile to different types of breast implants, you have no shortage of ways to make your results uniquely your own.
What are your options for customizing your breast augmentation, and how does each option affect your results overall? Read on to learn everything you need to know about creating the personalized results you have always wanted.
What Is Breast Augmentation?
Breast augmentation is a plastic surgery procedure in which silicone or saline implants are placed in the breast to add fullness and/or correct asymmetry. It is popular with those who have always felt their breasts were disproportionately small, those who have naturally asymmetrical breasts, and those who want to restore volume lost due to weight loss or breastfeeding, among others.
Should I Get a Breast Augmentation?
Candidates should be at least 18 years old with fully developed breasts. They should be generally healthy nonsmokers (or willing to quit) with realistic expectations and a healthy mindset.
Ultimately, the decision to get a breast augmentation is a highly personal one that comes down to your preference. You should only get breast implants to increase your confidence in your own body, not to please others or meet external expectations.
Learn more about the breast augmentation journey and what to expect in a related blog post.
What Are My Options for Customizing My Breast Augmentation?
You have quite a few options for creating a breast augmentation result that is exactly what you had envisioned. Your many customization options include:
Size: Breast implants are measured in cubic centimeters (cc) instead of cup sizes.
Type: Choose between silicone, saline, and gummy bear implants.
Profile: Opt for low, moderate, high, or ultra high to adjust your breasts' projection from your chest.
Shape: Implants may be round or anatomic/teardrop shaped.
Texture: Some implants have smooth shells, while others are textured.
Placement: Place your implant above or below your chest muscle.
Incision: Our surgeons always recommend the inframammary incision for optimal results.
If these decisions seem daunting, don't worry. Board-certified plastic surgeons Dr. William Koenig and Dr. Ashley Amalfi will advise you on the best implant for your individual body shape and aesthetic.
Size: What Size Breast Implant Should I Get?
Breast implants are measured in cc rather than cup sizes to account for sizing differences between different bra companies. As you select a size, keep your natural proportions in mind. Choosing a size that compliments your natural frame will give you a timelessly attractive and flattering result.
Type: Which Type of Breast Implant Is Best?
Each implant type offers its own benefits:
Saline implants are FDA approved for people 18 years old and up. These are typically the most cost-effective option.
Silicone implants are FDA approved for people 22 years old and up. While they have a slightly higher price, they look and feel more like natural breast tissue.
Gummy bear implants, or form-stable silicone implants, offer all the benefits of silicone implants with a decreased risk of leaking in case of a rupture.
Profile: Should I Go High, Moderate, or Low?
The implant profile dictates how far your breast projects from your chest. Low-profile implants have a wider base and less projection, whereas high-profile implants have a narrower base with more projection. The right choice for you all depends on your aesthetic preference.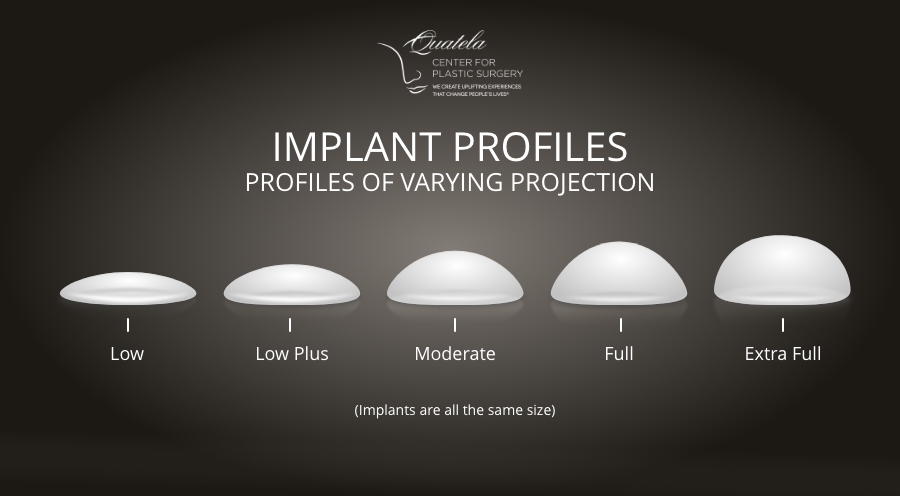 Shape: Should I Get Round or Teardrop Implants?
Teardrop implants have more volume near the lower pole of the breast than round implants. This is ideal for those with little natural breast tissue who want to create the appearance of a feminine teardrop breast shape.
Texture: Are Smooth Breast Implants Better Than Textured Implants?
Smooth implants are exactly what they sound like: fill material encased in a smooth shell. Textured implants, on the other hand, have a coarser surface that prevents movement or shifting, making the surface highly recommended for teardrop implants.
Are Textured Breast Implants Safe?
The FDA recently noted a certain textured implant carried an increased risk of breast implant-associated anaplastic large-cell lymphoma (BIA-ALCL). Allergan®, which manufactured the BIOCELL implant in question, voluntarily recalled the model. However, it's worth noting that BIA-ALCL occurs most frequently in patients who have breast implants with textured surfaces, according to the American Society of Plastic Surgeons.
Placement: Should I Have My Breast Implants Placed Above or Below My Chest Muscle?
Placing an implant above the chest muscle (subglandular) eliminates potential deformities caused by pressure on the implants. However, placing it below the muscle (submuscular) or partially below the muscle (dual plane) may be a better option for those with little natural breast tissue who want to disguise the edges of their implants further.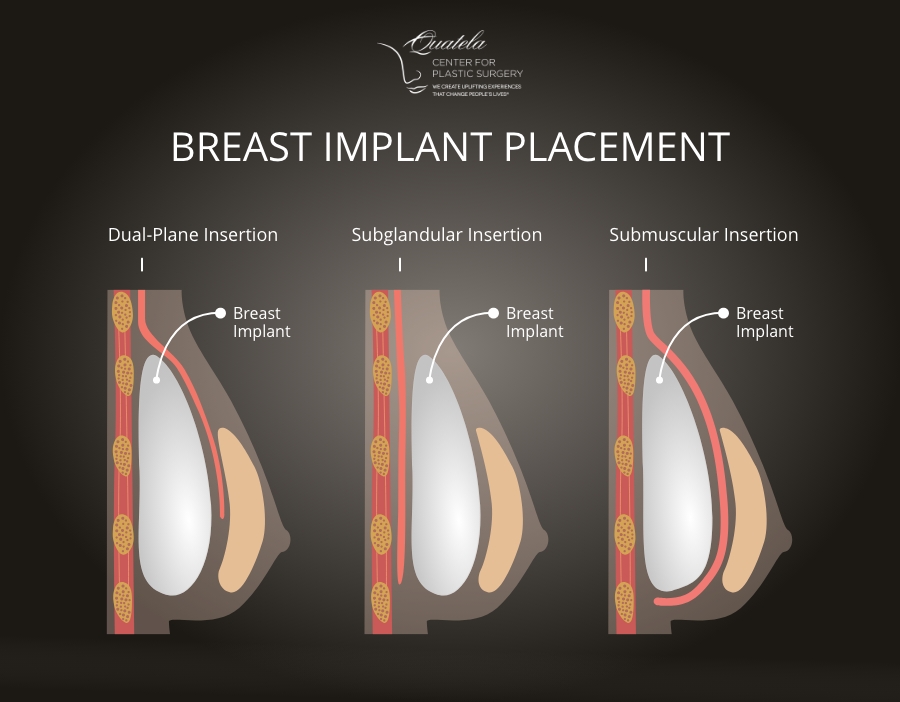 Incision: Where Are Breast Augmentation Scars Placed?
Dr. Amalfi and Dr. Koenig only use the inframammary incision for breast augmentation. This incision runs horizontally along the crease under your breast. This allows for optimal placement and minimal visible scarring on the breast.
Other surgeons may use the periareolar incision, which circles the areola, or the transaxillary incision hidden in the underarm.
Should I Include a Breast Lift With My Augmentation?
Combining a breast lift with a breast augmentation is highly beneficial for those looking to both add fullness and address drooping or sagging. Popular with people who have had children or lost weight, a breast lift with implants is worth considering if you would like to both boost your natural breast size and lift your breasts to a perkier and more youthful position.
What Is Breast Augmentation Recovery Like Day by Day?
The initial recovery period only takes about 5 days, at which time you can return to office work and other non-physically demanding activities. After the first week, you can resume lower body workouts and gradually work your way up to returning to all exercise after about 3 weeks.
One important factor of breast augmentation recovery to note is the "drop and fluff" phase. Initially, you may find your breasts appear firm and high on the chest, perhaps even looking a bit unnatural. Over the next few months, your breasts will soften and drop to a more natural-looking position. Just take a look at our real patient before-and-after photo to get an idea of your timeline.
Where Do I Start?
If you would like to speak with one of our breast surgeons about your breast augmentation options, please request a consultation online or call our Rochester, NY, office at (585) 244-1000. We look forward to hearing from you!